Regular price
$630.00 USD
Regular price
$1,100.00 USD
Sale price
$630.00 USD
Unit price
per
Sale
Sold out
Description

Introducing our Playpen Safety Bed, a secure and comforting solution designed with special needs and autism in mind. This versatile bed creates a safe haven, offering peace of mind to parents and caregivers. Crafted with the utmost attention to safety, it features sturdy construction and enclosed sides that prevent accidental falls, ensuring a secure environment for your loved one.
Dimensions

Twin: 40.5"D x 77.5"W x 38.5"H
Full: 56.5"D x 77.5"W x 38.5"H

Weight Limit

This playpen safety bed can support up to 400 lbs. It provides a comfortable space for one adult and one child to spend time together.
Materials

Montoddler playpen safety bed is expertly handcrafted using the finest natural American pine wood. We take immense pride in selecting this high-quality material, known for its durability and beautiful grain patterns.
Customer Support

At Montoddler, customer satisfaction is at the heart of everything we do. We are delighted to provide our valued customers with two convenient channels for assistance: a dedicated call center and live chat support services. Our support team is readily available to assist you from 9:00 AM to 5:00 PM, Monday through Friday.

Our commitment is to ensure that all your inquiries, concerns, and needs receive the utmost attention and professional assistance during our operating hours. Your satisfaction and peace of mind are our top priorities. Feel free to reach out to us, and let us make your Montoddler experience exceptional.
Shipping

This personalized playpen safety bed is a handcrafted product made in New Jersey. If there are no specific requests, it will be shipped next business day. However, if you have a special request such as adding your child's name, the shipping process may take up to 5 business days.
Sustainability

We strive to do our part to leave a better planet for our children. We make an effort to choose all possible materials that are made in America. For our energy needs, we rely on solar panels. By not selling products outside of America, we keep our carbon footprint as low as possible.
Why Montoddler

Montoddler is a leading brand of high-quality Montessori-inspired products designed to support children's physical and intellectual development. Our products are crafted from natural materials and encourage children's learning and exploration processes.
Montoddler enables children to grow and learn at their own pace in a safe and nurturing environment. Our goal is to provide parents and children with the opportunity to easily experience this valuable Montessori approach.
The playpen safety bed for special needs or autism, standing at a height of 38.5 inches, is designed to ensure your most precious loved one can spend time and sleep securely. The bed's unobtrusive design also allows for easy entry and exit, promoting independence and providing a space where individuals with special needs or autism can feel comfortable.
Our Playpen Safety Bed is more than just a place to sleep; it's a versatile sensory haven. The breathable mesh sides provide visibility, allowing caregivers to monitor their loved ones without disruption. It also acts as an excellent tool to help individuals develop better sleep routines. The bed's thoughtful design encourages a sense of security and serenity, promoting better sleep patterns. Choose the Playpen Safety Bed for your loved one, and provide them with the care and attention they deserve.
Share
View full details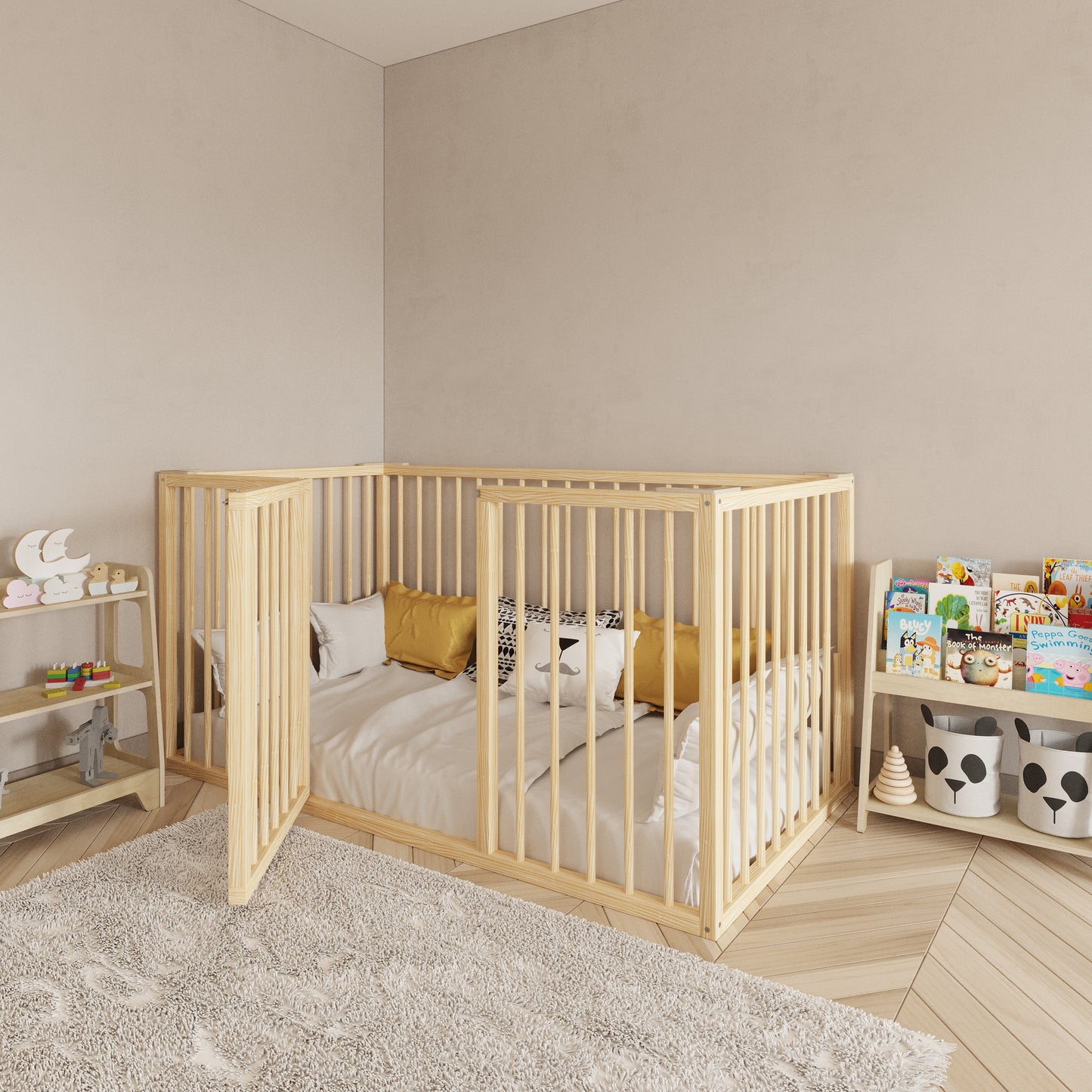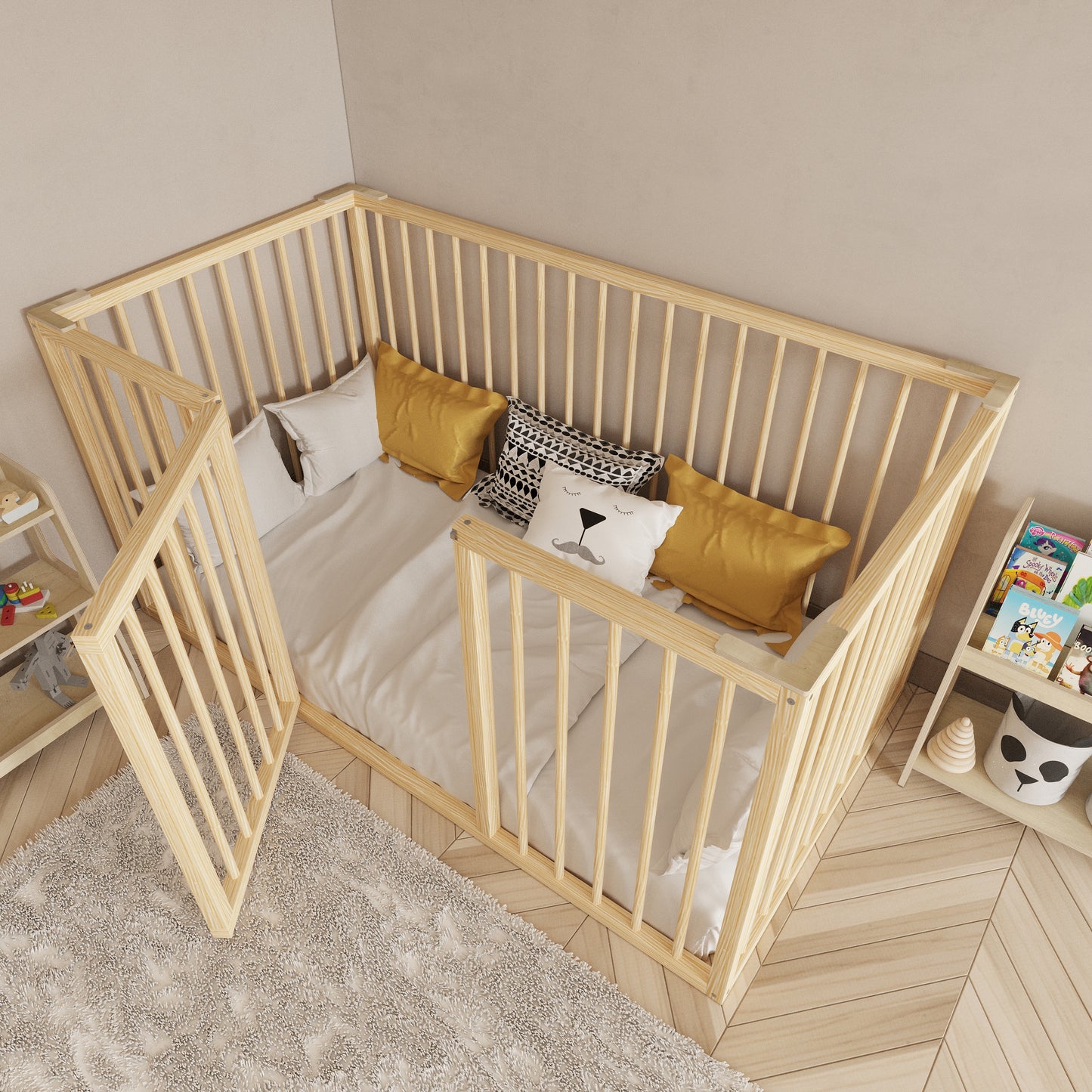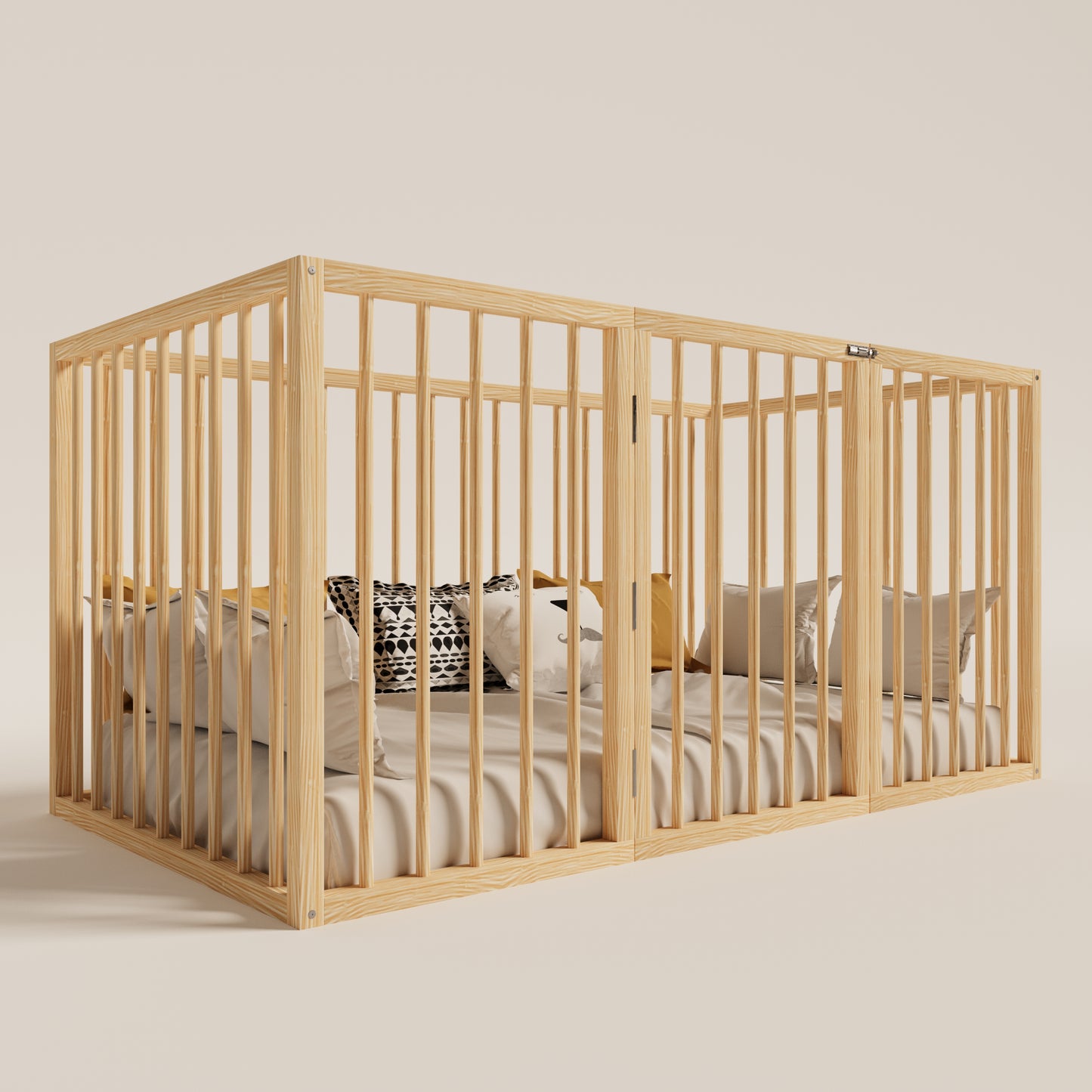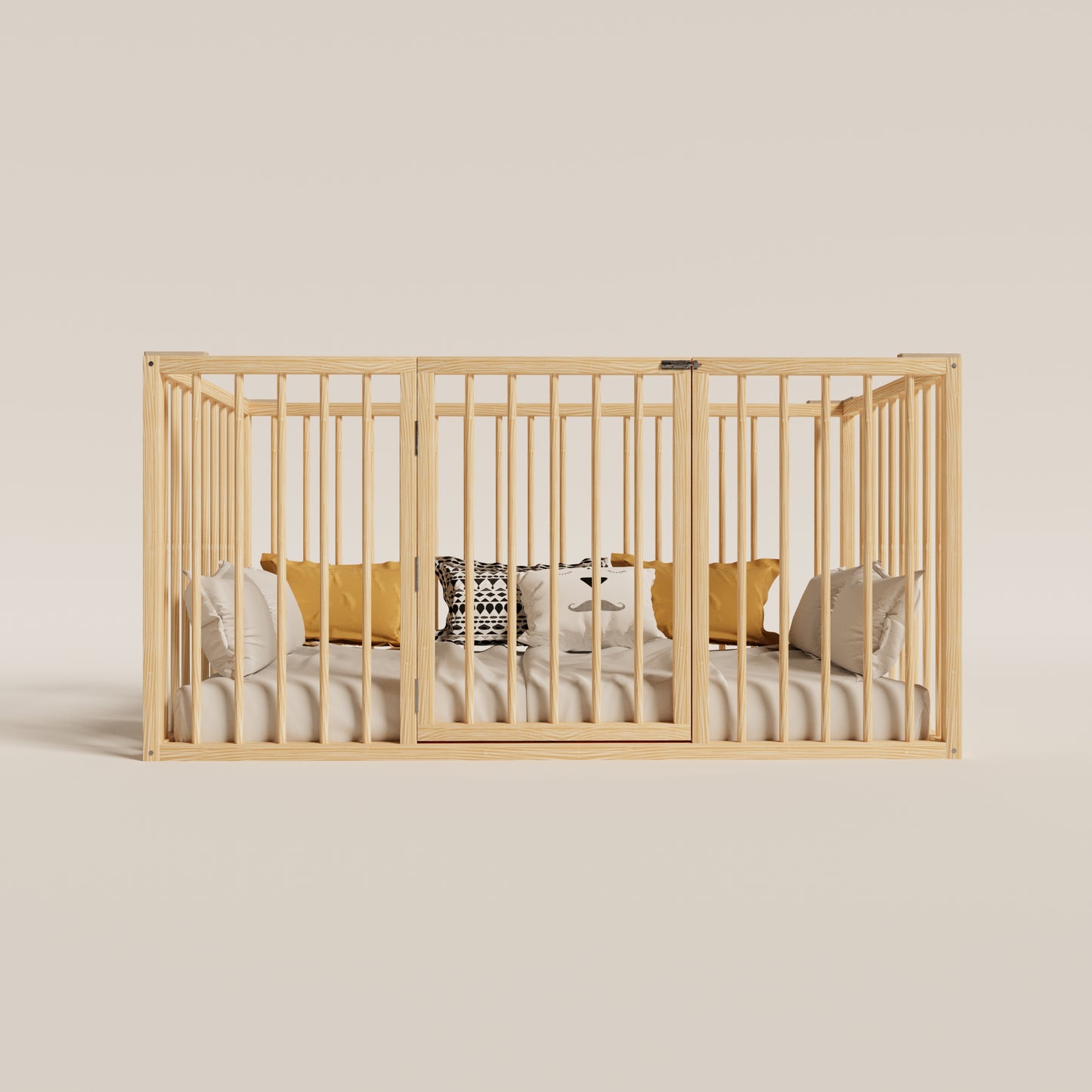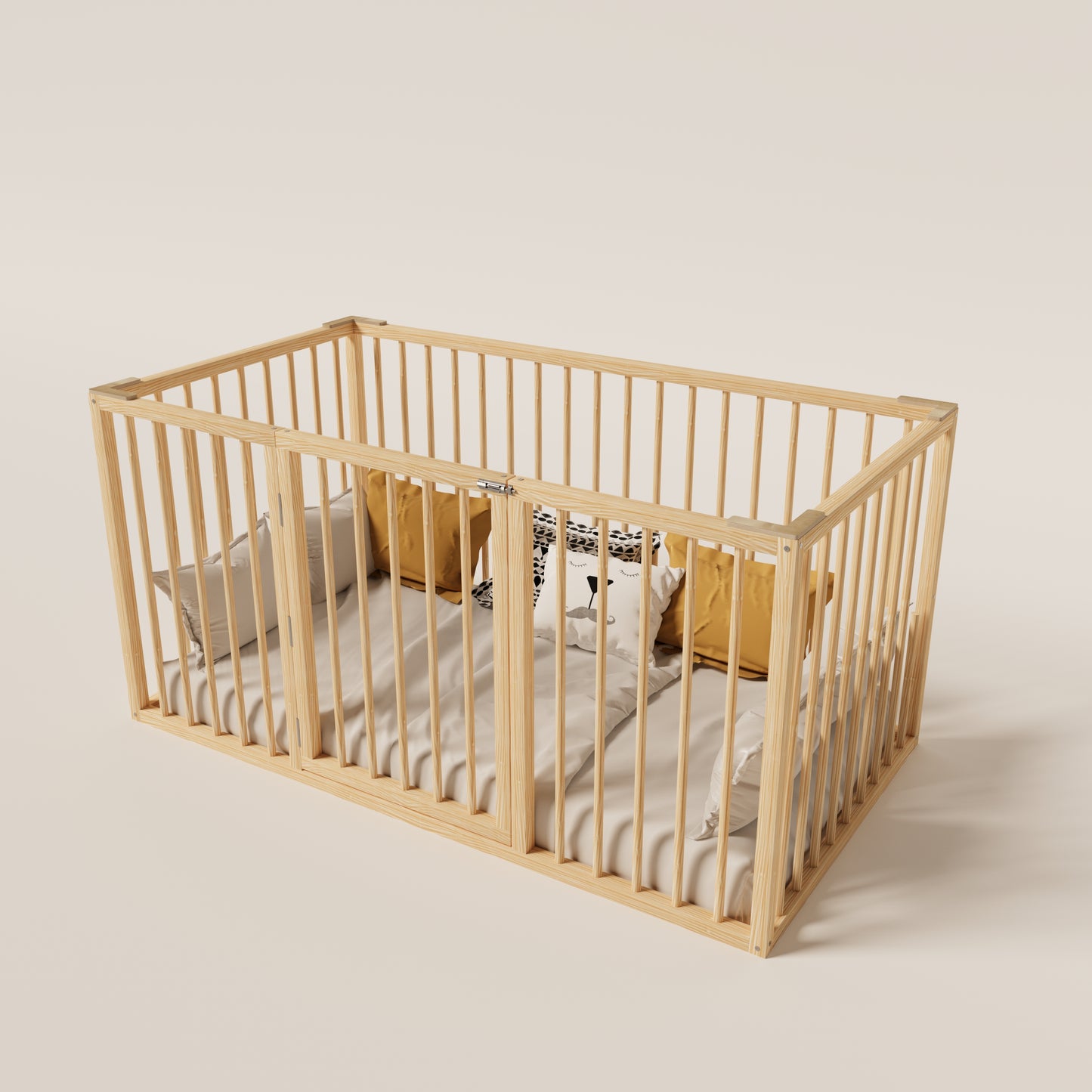 Common Sleep Challenges & Patterns in Children with Special Needs
Difficulty with Transition Routines

Many children demonstrate rigidity around daily rituals or those with language delays have trouble communicating choices, experiencing shutdowns when familiar patterns alter unexpectedly. Something as simple as a later bedtime or forgotten lovey disrupts some sensitive children.

Tactile Sensitivities

Kids register textures, accessories like sock seams or tag labels against skin differently along neurological spectrums. This causes heightened stimulation or discomfort distracting rest.

Hyperactivity & Lower Impulse Control

High energy overwhelmed by myriad thoughts complicates herding active minds into relaxation at bedtimes Another corollary – impulsivity jumping out of bed repeatedly before settling.

Repetitious Behaviors

Stimming through motions like hand flapping or pacing serves regulation purposes. Yet the continued movement and endorphin reward cycles hamper children breaking repetitive patterns to rest.

Anxiety & Emotional Dysregulation

Some autistic children experience amplified worry about darkness, sleep itself or fixation on topics that delay shutting down sensory systems required for rest. Emotions heighten into meltdowns derailing bedtime routines.

Nighttime Wandering

A subset of children roam houses frequently in the night – whether due to dementia risks like Angelman's Syndrome, seizures, medication impacts or impulse control challenges still maturing. Safety concerns arise if children exit bedroom spaces unattended.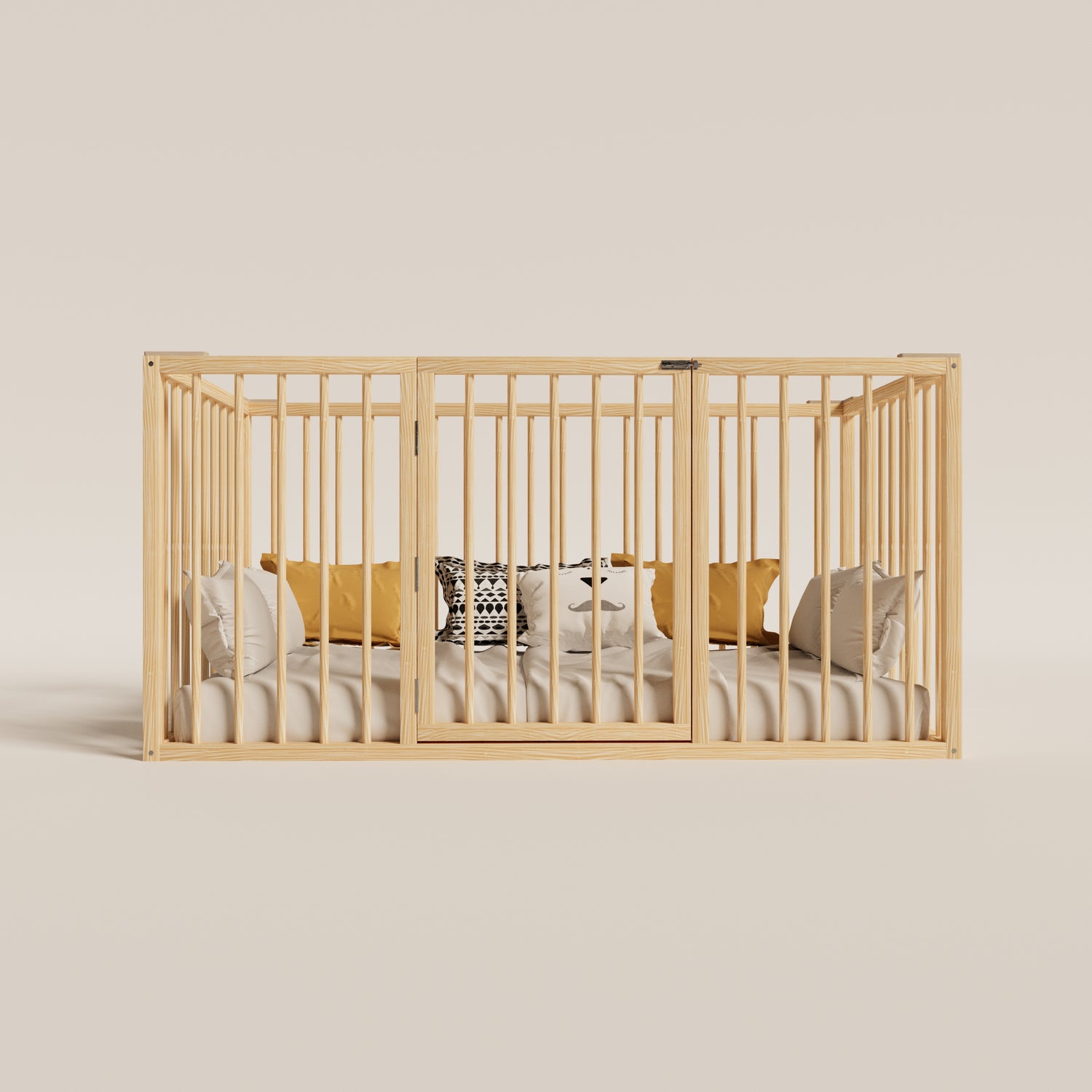 Safety Bed for Autism
By examining common sleep challenges along the autism spectrum, families gain wisdom on tailored solutions serving specific children best. As each child's needs vary uniquely even alongside diagnosis similarities, an overview of the safety bed landscape equips parents and caregivers to make informed bedtime decisions easing difficulties.
We'll explore features and purposes behind categories like enclosed canopy beds, weighted blankets, transition mattresses and more that transform bedrooms into secure sanctuaries for children with developmental exceptionalities.
Introducing our special needs safety bed
For families raising children on the autism spectrum or with sensory integration differences, establishing healthy sleep patterns often necessitates creative solutions beyond typical beds and bedroom environments. Repetitive motions, wandering tendencies, tactile sensitivities plus anxiety around enclosed spaces mean many children with developmental exceptionalities face barriers settling into restful slumber without specially designed assistance.
Thankfully a range of specialty safety beds and bedding accessories now exist supporting diverse sensory needs, communication styles and abilities among children who may thrive best with nurturing physical security plus comforting sensory input easing the transition into nightly restoration.
Frequently Asked Questions
What ages is the Montoddler playpen safety bed designed for?

It is sized and designed for toddlers and preschoolers ages 18 months to 5 years old.
What conditions does it help accommodate?

It often benefits children with autism, ADHD, sensory disorders, anxiety, epilepsy or similar conditions needing an enclosed, distraction-free sleep space.
What safety features make this bed ideal for special needs?

Solid wood frame, and low profile floor bed design allows safe confinement, breathability, and accessibility without risk of falling.
Does my child need an autism diagnosis to benefit from this bed?

Not at all. It supports any children who sleep better within a cozy, enclosed environment filtering stimuli. No diagnosis required.
What if my child outgrows it by age 5?

Montoddler beds are built to last through at least age 6-7 before a standard twin bed may better fit a child's size and sleep needs.
Is assembly complicated?

Assembly just takes about 20 minutes for one person using the clear instructions and pre-attached guard rails. No tools required.
Can I use weighted blankets inside the bed?

Yes, the interior side pockets are perfect for holding weighted blankets, fidget toys or sensory items helping your child self-soothe to sleep.
What is the bed frame made from? 

The frame uses solid American pine wood to meet strict safety standards for durability.
Is there a sleep transition version without the full enclosure?

For children needing less enclosure, Montoddler makes a lowered floor bed base with optional 2-side guard rails gradually helping kids feel at ease on open beds.